ABSE-ÈL
One brand, three souls… serving female vanity. In a modern and joyful way.
Abse-èl, contraction of Absolute Elle, revolutionizes the concept of traditional brand, presenting itself as a platform for creative ideas and products, that, while belonging to different categories, share the same missioni: celebrating femininity, with a touch of sensuality and a big dose of energy, fun and anti-conformism.
Born in 2021 from the idea of three friends with consolidated expertise in the fashion and beauty sectors, Abse-èl brings together ready-to-wear, accessories and make-up in a unique, fresh and contemporary style experience. Leveraging on the know-how of Made in Italy companies, Abse-èl offers quality products, that, while reflecting seasonal trends, at the same time are conceived to be durable.
A distinctive geometric logo, which combines two "Ls" creating a rectangular graphic sign, pops up on the brand's products, inspiring, for example, the cutouts of the ready-to-wear knitwear collection, but also the buckles of shoes and bags, but also the lipstick packaging.
In the world of Abse-èl, color becomes key to telegraph a message of positivity and optimism, reaching enterprising, strong and proactive women who love to nourish their natural beauty, but at the same time who are not afraid to dare, experiment and play.
Because for Abse-èl, every woman deserves her experience of the Absolute.
ONE BRAND, THREE SOULS
Meet Abse-èl co-founders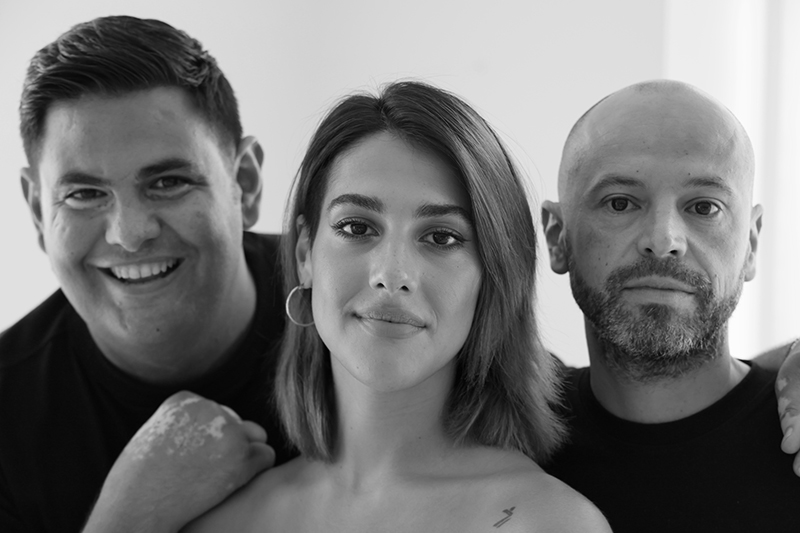 LUDOVICA BARLAFANTE
The youngest on the team, Ludovica is a restless Gemini woman, with an enterprising and combative spirit. An experienced make-up artist, Ludovica is the brand's beauty guru, responsible for the development of the cosmetic product line. Trained in London and then in NY with some of the most established international make-up artists, Ludovica loves experimenting with colors and techniques, including air brushing.
DAVIDE MATTIUCCI
The most social soul of the team, Davide is precise, rational and concrete, perfectionist and picky as only a Virgo man can be. An established designer with an over 10 years experience of the fashion sector, where he directly followed the development of many projects, today he leads Abse-èl ready-to-wear department. In love with the world of fashion, he looks at this sector with great respect but also with the right amount of irony, always giving everyone a smile.
GIUSEPPE DI BARTOLOMEO
"Give me a heel and I will lift the world." This is the motto of Giuseppe, an expert designer at the helm of Abse-èl accessories line. Featuring the Sun in Sagittarius and an Ascendant in Taurus, Giuseppe is a stubborn and adamant creative, deeply in love with the fashion world, where he started working at a very young age, dividing himself between the style office and the production department of Made in Italy brands. Shoes and bags have no secrets for him, but don't ask him to share images on social media… he still prefers to browse a good print magazine.